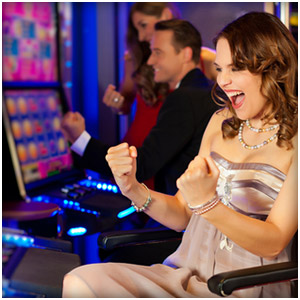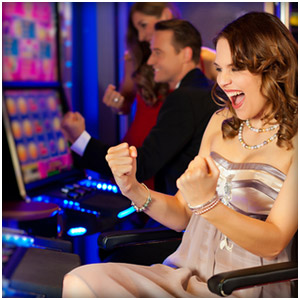 Slot machines occupy a significant niche in the annals of gambling, and online vendors are carrying that tradition forward on the World Wide Web.  Slots are not shrouded in mystery or laden with strategic learning curves that take the fun out of playing. However, slot games do have a language of their own, so brushing up on your slots terminology before you start playing is a good idea.
At their simplest, slot machines are basic three position games of chance that rely on single, easy-to-monitor pay lines. And of course, adventurous gamblers also partake in complex, multi-line slots games that incorporate dizzying graphics and sophisticated bonus structures.  Whether you are a traditionalist, or a curious progressive, there is a slot machine somewhere that has your number.
Online Slots vs. Land-Based Games
Slots are familiar features on live casino floors.  The games enjoy widespread appeal – in part because they do not intimidate novice gamblers because slots have simple rules. Even first-timers are well-versed on slot machine protocol – just pull the lever or press the button, and you're off.  There is a little more to it these days, since the actual machines have evolved to include a few more bells and whistles than traditional one-armed bandits.
Modern players are required to designate a wager for each spin, usually by pressing a control that loads the desired number of credits.  And most machines don't even have one arm anymore, just a button that starts the reels spinning.
Wherever you play slots, the fundamentals of the games are the same, so online versions provide the same level of comfort as in-person machines.  In fact, these stand-out features of online slots offer distinct advantages over land games:
Convenience – Proximity to a casino is a luxury not all slots players share.  For some, playing in-person is a remote option at best, and even those with easy access to casinos can't beat the handiness of playing online.
Variety – Online slots offer more games than land casinos can possibly host.  Online slots sites often have hundreds of different games going at once, providing new opportunities for players who like to try games with unique features.
Higher Payouts – Online casinos operate leaner than brick and mortar facilities.  Virtual slots vendors save money on rent, maintenance, dealer payroll and a host of overhead concerns associated with running land casinos.  Not only do online slots have consistently higher payouts, but compared to live casinos, online slots allow higher wagers.
Play at Your own Pace – When you take a break at a casino, your machine is up for grabs. Online players move the pace of the game along without pressure and are free to step away without losing out.
Superior Bonuses – Comp points are great land-based casino perks, but promotions and bonuses are better online.  Not only do online casinos use bonuses to lure slots players from land casinos, but they also put forth aggressive promotions to compete with one another. Sign-up bonuses and first-deposit bonuses are extended to new players, who accrue free credits by logging preset amounts of game play. Reload promotions offer incentives to players who make additional deposits to their accounts.
Something for Everyone
Online casinos operate in a competitive marketplace, so they court slots players with aggressive promotions and favorable account terms. Slots on the web also use state of the art technology to lure aficionados who like to dabble in the latest gadgetry.  Modern video slots employ multiple pay lines and free spin bonuses to keep players coming back.
Progressive slot machine jackpots, a casino favorite, operate online in the same way they do in live casinos.  A fraction of each wager is directed to a progressive jackpot, which grows as part of a network of machines.  Pots are linked to many slots, so they grow quickly, and any player in the network is eligible to win.  Special symbols and unique winning combinations are utilized to create long odds for winning rich progressive jackpots.
Slots tournaments are distinct events used by online casinos to draw spirited competition.  Holidays and special occasions are used as excuses to organize multi-player slots tourneys, which are rarely found in conventional casinos.
Online slots provide convenient outlets for traditionalists who like to play basic reel slots and modern players who embrace video slot formats.  Whatever your speed, compare promotions and bonuses, progressive games, and tournament options to help choose the slots site that fits you best.