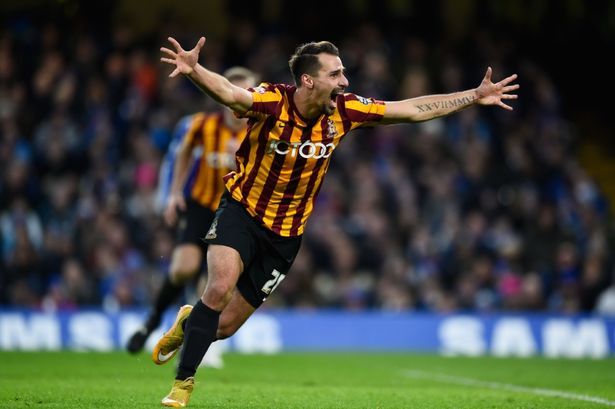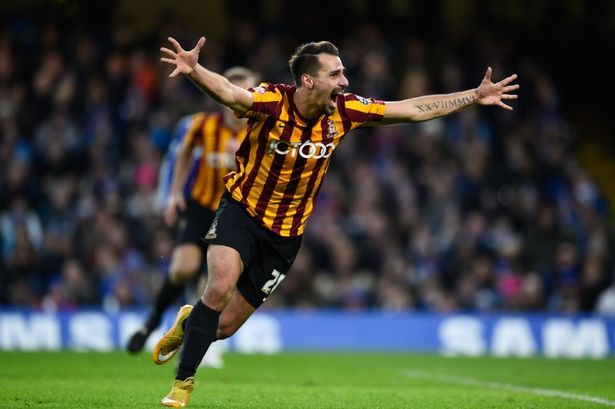 The FA Cup is the world's oldest football cup competition; it's also the original home of the big upset.
From Wrexham beating Premiership (then Division 1) champions Arsenal in 1992 to the Crazy Gang of Wimbledon beating the 'culture club' of Liverpool in the 1988 Cup Final at Wembley, the FA Cup has been littered with big names crashing out at every turn.
However, for all the non-league wannabes and Premier League no-shows turning results on their head, none perhaps has come close to Bradford City in the current FA Cup.
The Bantams are currently fighting for a play-off place in the Sky Bet League One, but making it to the Championship this season will pale in comparison to their Cup exploits so far.
Bradford are in the Quarter-finals, where they meet Championship side, Reading, but along the way they have dispatched Sunderland and, most famously, Chelsea. For loyal betting Bradford fans and pin-sticking long-list punters, Bradford's run could turn out to be the best bet they've ever made.
But how much would backing Bradford have made you so far? We go back in time and start the campaign with a tenner to see how bulging your bankroll would be now.
(Note: Every time Bradford City win, we have rolled over our winnings onto the next game. There's one exception, though: the Millwall game where Bradford had to go to a replay.)
(All odds in decimal format)
First Round
Sunday, 9th November 2014
FC Halifax 1-2 Bradford City
Bradford got their Cup run off to the perfect start against non-league side, Halifax. Bradford had to come from behind to win after they were stunned by a third-minute Halifax goal from Lois Maynard.
Bankroll:
£10 Bradford Win @ 2.15 = £21.50
Second Round
Sunday, 7th December 2014
Bradford 4-1 Dartford
More non-league opposition for the Bantams in the second round, this time in the shape of Vanarama Conference strugglers, Dartford. After two goals either side of half-time, the result was never in doubt.
Bankroll:
£21.50 Bradford Win @ 1.33 = £28.60
Third Round
Wednesday 14th January, 2015
Bradford 4-0 Millwall (after replay)
With a tricky away tie to Millwall we decide to take £5 out of our roll and stake it on a Bradford win. However, after losing our fiver after the Bantams draw 3-3 we bet our remaining £23.60 on Bradford to win the replay at home. They duly oblige, thumping the Championship side 4-0.
Bankroll:
£23.60 Bradford Win @ 2.62 = £61.83
Fourth Round
Saturday, 24th January 2015
Chelsea 2-4 Bradford
Bradford have done well to reach the fourth round, but now they face Chelsea, sitting top of the Premier League a few points clear of nearest rivals, Manchester City. Surely Bradford can't pull off a miracle at Stamford Bridge?
Well, some punters and Bantams fans will be telling their grandchildren the time Bradford beat the league leaders away from home. Not only beat them, mind, but thumped them 4-2 despite going two goals behind.
Although they were ranked 49 places below Chelsea in terms of league places, Bradford fought back to level the game with 75 minutes on the clock. Two goals in the last 10 minutes from Andy Halliday and Mark Yeates sealed the Bantams route into the next round and send stunned fans into ecstasy.
Interestingly, if you had a double on Bradford (28/1 shots) and Middlesboro to beat Manchester City, you would have got 364/1.
Bankroll:
£61.83 Bradford Win @ 29.00 = £1,793.07
Fifth Round
Sunday, 15th February 2015
Bradford 2-0 Sunderland
Going into the fifth round for the first time in 18 years, Bradford are drawn a home tie. That's the good news; the bad news is they have more Premier League opposition, this time strugglers, Sunderland.
Jon Stead is once again the hero, scoring in the 61st minute to add to a John O'Shea own goal and send the Bantams through 2-0. Bradford City make more history and find themselves in the FA Cup quarters for the first time since 1976 and just one match away from a Wembley semi-final.
Bankroll:
£1,793.07 Bradford Win @ 4.4 = £7,889.51
Looking Ahead:
Quarter-Final
Saturday, 7th March 2015
Bradford v Reading
After dispatching two Premier League sides, meeting a team just one league above them, Championship Reading, seems a bit of a damp squib for Bradford. But a win against the Berkshire team would be well-deserved based on their exploits so far. Letting the entire bankroll of almost £6,000 ride on Bradford would see us go to Wembley with a cool £21,696 to bet with.
Potential bankroll: £7,889.51 Bradford Win @ 2.75 = £21,696.14