Boxers' Debut Fights Abroad – Ahead of AJ v Ruiz Jr in New York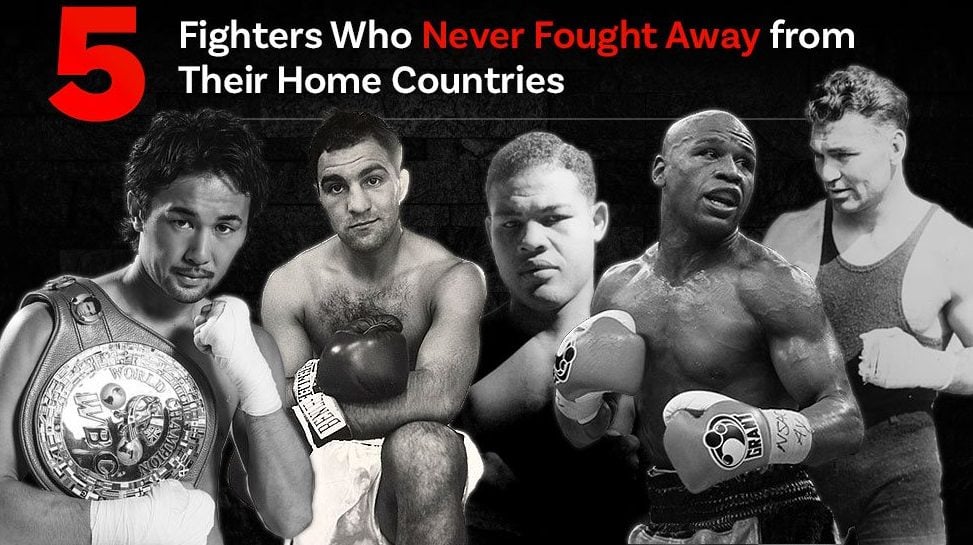 Anthony Joshua's rampant rise to heavyweight prominence on home soil has seen him become the face of British boxing. But he will look to further enhance his stature in the sport when he makes his American debut this summer.
On June 1 at the world-renowned Madison Square Garden in New York City, regarded as 'the Mecca of Boxing', 'AJ' will defend his unified WBA 'Super', IBF and WBO heavyweight titles against replacement foe Andy Ruiz Jr.
Britain's leading light was  preparing to do battle with Jarrell Miller in what will be his first fight outside of the UK, since turning professional after his 2012 Olympic Gold medal success. But 'Big Baby' was replaced by Mexican-American challenger Ruiz Jr after the former tested positive for a number of performance-enhancing drugs, and was subsequently banned for six months.
So, in light of this substitute  heavyweight showdown soon taking place involving US debutant 'AJ' , here we will look back at how other fighters have fared on their own respective debuts abroad and those who never left their home nations at all.
5 fighters who struggled on debuts abroad
[smartslider3 slider=13]
1. Muhammad Ali (then Cassius Clay)
Arguably the greatest fighter of all time even endured some struggles on his first fight outside of his home country. Muhammad Ali (then called Cassius Clay) managed to recover from his worrying early setback to prevail over Henry Cooper on British soil, having amassed a promising record back in America.
 The following year Ali became world heavyweight champion by stunning Sonny Liston and eventually beat Cooper once again in their 1966 London rematch.
2. Carl Frampton
Belfast native Carl Frampton had established himself a growing reputation across the UK before arriving on American territory to face Mexican challenger Alejandro Gonzalez Jr, and more prosperous fights were looming on the horizon.
'The Jackal' withstood the worst round of his career immediately in Texas to eventually come out on top. Ironically, his early struggles paved the way for a bout with Scott Quigg, who he beat before also besting Leo Santa Cruz to earn himself Fighter of the Year for 2016 and he has since continued his great career at the top.
3. Dereck Chisora
After becoming British and Commonwealth heavyweight champion, Dereck Chisora lost his belts to the future unified king Tyson Fury, with all his exploits coming on the UK scene up to that point.
Following a recovery win, 'Del Boy' then contested Robert Helenius in Finland but his debut abroad ended in a loss. That set up a series of defeats for Chisora, as he then lost a world title bid against Vitali Klitschko and was knocked out by British rival David Haye.
4. Roy Jones Jr
Former four-weight world champion Roy Jones turned professional in 1989 and achieved incredible success in his career, but it wasn't until 20 years later that he finally fought abroad.
It ended in a failed trip to Australia at the hands of Danny Green, but it began a series of foreign fights for the legendary American champion, who has enjoyed a sublime career despite his latter blemishes.
5. Tony Bellew
Liverpool's now-retired Tony Bellew may have starred in Creed, but there was to be no Rocky-esq success on his maiden travels outside of the UK, having brutally fallen short to the hard-hitting Adonis Stevenson.
'The Bomber' did eventually get his hands on a world title three years later after moving up to cruiserweight, securing a dream night at Goodison Park when he overcame Ilunga Makabu in his own backyard.
5 fighters who enjoyed successful debuts abroad
[smartslider3 slider=14]
1. Mike Tyson
Having rallied to heavyweight supremacy at such a young age across America, Mike Tyson enjoyed a maiden fight night away from home in Japan, comfortably dispatching Tony Tubbs.
The youngest heavyweight title holder in history would earn another three successful defenses in light of that Japanese demolition job, but it was two years later that he historically suffered his first ever defeat to huge underdog Buster Douglas.
2. Amir Khan
Amir Khan has carved out a big name for himself in the States, but it wasn't until his 24th professional outing that he arrived on the American scene, in his victory over home fighter Paulie Malignaggi.
The Bolton native has been involved in plenty of career highs and lows since making his American bow, but his overall career has been one of the most admirable in British boxing.
3. Billy Joe Saunders
Before completely outboxing David Lemieux over 12 lop-sided rounds on his debut outside of the UK, Billy Joe Saunders had been crowned world champion back in home surroundings.
His willingness to finally travel abroad paid off with what resulted in the best performance of his career to date. But, fans are still yet to see him in a huge middleweight match-up that he has long been tipped for.
4. Terence Crawford
Scottish supporters may not have realized back in 2014 that they were witnessing the beginning of the rise of one of the best fighters in the world today.
Terence Crawford comfortably dethroned home hope Ricky Burns on his visit to the UK, and he has since established himself one of the current leading pound-for-pound stars on the planet.
5. Micky Ward
Remembered primarily for his pulsating trilogy with Arturo Gatti, American brawler Micky Ward was a true warrior in the ring and one who enjoyed a sole successful bout abroad. He travelled to London to stop home hope Shea Neary in eight rounds to claim the WBU light-welterweight belt.
Ward's epic war, the first of three ring battles, with eventual close friend Gatti came two years after that travelling triumph to the English capital.
5 fighters who never left home nations
[smartslider3 slider=15]
1. Floyd Mayweather Jr
The self-proclaimed 'best fighter ever' Floyd Mayweather Jr never once fought outside of his native America throughout his professional career, instead becoming the main money man on home soil.
Mayweather did eventually step into the ring outside of the US in a bizarre money-grab exhibition bout in Japan after his retirement, knocking out an under-sized and over-matched Tenshin Nasukawa.
2. Jack Dempsey
It was a common occurrence for American pugilists of Jack Dempsey's era to remain on home territory for their prize-fighting careers.
Dempsey became an American cultural icon as world heavyweight champion in the roaring 1920s, making him one of the most popular fighters ever and drawing in mammoth crowds for his time period.
3. Joe Louis
Another American heavyweight sensation that only ever showcased his legendary credentials across his home nation was Joe Louis.
'The Brown Bomber' had no need to fight anywhere else than America, and he is widely regarded as the best heavyweight to ever lace up a pair of gloves.
4. Rocky Marciano
An American heavyweight legend that remained in America throughout his career? There's a theme here.
Rocky Marciano was a devastating knockout artist who finished his career undefeated with a hugely admirable record of 49-0, which included victories over Jersey Joe Walcott, Ezzard Charles and Joe Louis.
5. Shinsuke Yamanaka
Reigning as bantamweight world champion with an impressive 12 successful title defenses across six years, Shinsuke Yamanaka boasts the fourth-longest in the division's history.
The now-retired Japanese fighter was always involved in entertaining clashes but they were all held in his home nation, having stayed there for his entire professional career.
AJ V Andy Ruiz Jr
Anthony Joshua will be aiming to dispatch Andy Ruiz Jr  in eye-catching fashion when he takes to the ring on foreign soil for the first time in his career on June 1, with the American crowd at Madison Square Garden expecting a decisive finish on the Briton's debut.
The long-awaited showdowns with rivals Deontay Wilder and Tyson Fury, who have both enjoyed success outside of their respective home nations already in their careers, will hopefully come closer to fruition if 'AJ' can prevail here.
A unification meeting with Wilder is one of the most prestigious bouts that can currently be made in the sport and any future domestic encounter with Fury would be a mammoth night for British boxing.
Before either of those potential heavyweight blockbusters can be made, though, Joshua must first deal with the threat posed by surprise stand-in opponent Ruiz Jr , as he looks to make a lasting impact in his maiden American ventures.
About The Author

Lee Gormley is a sports journalist who primarily covers boxing for a range of top media outlets.
He can be followed on Twitter @LeeGormley.
Sources:
https://talksport.com/sport/boxing/478151/tyson-fury-12-fights-12-different-countries-heavyweight-leaving-legacy/
https://www.telegraph.co.uk/boxing/0/anthony-joshua-vs-jarrell-miller-date-fight-tv-channel-prediction/
https://www.express.co.uk/sport/boxing/667727/Revealed-The-top-five-best-British-boxing-wins-abroad-Boxing-News
https://www.standard.co.uk/sport/boxing/floyd-mayweather-vs-tenshin-nasukawa-result-american-destroys-kickboxer-tenshin-nasukawa-in-round-a4027636.html
https://en.wikipedia.org/wiki/Jack_Dempsey
https://www.bbc.co.uk/sport/boxing/47453594
https://www.joe.co.uk/sport/carl-frampton-deal-top-rank-223940
https://www.dailymail.co.uk/sport/boxing/article-6847335/Billy-Joe-Saunders-fight-Shefat-Isufi-interim-WBO-super-middleweight-title-Lamex-Stadium.html
https://www.boxingscene.com/anthony-joshua-shock-miller-only-received-six-month-ban–138550
Image Credits:
Muhammad Ali
Image: 'Muhammad Ali vs. Ernie Terrell' by Flickr/Cliff is licensed under CC BY 2.0
Carl Frampton
Image: 'Carl Frampton 2013' is licensed under Wikimedia Commons
Dereck Chisora
Image: 'Dereck Chisora' is licensed under Pindula
Roy Jones Jr
Image: 'Champion Roy Jones Jr' by Flickr/Bill(iudshi8uf) is licensed under CC BY 2.0
Tony Bellew
Image: 'Bellew' via TheMacLife.com
Mike Tyson
Image: 'Mike Tyson' by Flickr/Abelito Roldan is licensed under CC BY 2.0
Amir Khan
Image via Facebook/AmirKingKhanPage
Billy Joe Saunders
Image: 'Billy Joe Saunders' via FrankWarren.com
Terence Crawford
Image: 'Terence Crawford' via HannibalBoxing.com
Micky Ward
Image: 'Micky Ward' is licensed by RegrettableSincerity.com
Floyd Mayweather Jr
Image: ' Ver Mayweather vs Marcos Maidana en vivo – Box' by Flickr/VerenvivoEnDirecto is licensed under CC BY-SA 2.0
Jack Dempsey
Image: 'Jack Dempsey' is licensed under Wikipedia
Joe Louis
Image: 'Joe Louis by van Vechten' is licensed under Wikimedia Commons
Rocky Marciano
Image: 'Rocco Francis Marchegiano' is licensed by Wikimedia Commons
Shinsuke Yamanaka
Image: '山中慎介'is licensed under Wikimedia Commons