Best Time to Visit Vegas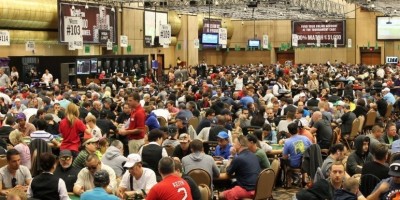 Vegas can be the most fun place on earth to visit if you do it right. Without a spot of careful planning, you could end up hitting town when it's too hot, too expensive, or too crowded.  Here's our guide to doing Vegas, and doing it right.
Avoid Summer, Unless You're a Poker Player
Vegas, during the summer months, is hot. It's so hot, in fact, that you could lie down on the Strip and fry an egg on your face. Or pop it in your mouth and poach it.  Or put it in your shoe with white sauce and cheese to make a soufflé.
You get the picture: Vegas is very, very hot. And eggs are very, very versatile.
The only real reason to visit Vegas any time from June to August, then, is if you're playing in the World Series of Poker, in which case you should not attempt to trade the air-conditioned cocoon that is the RIO All-Suites Hotel and Casino for the baking desert heat outside. Of course, if you're as mad about poker as we are, you probably won't want to.
With 68 events across a month and a half, from the end of May to mid-July, the WSOP is poker's Big Dance, a heaving fandango of poker that every fan of the game must see and participate in at least once in their life.
And it's never been a better time to visit for the recreational player. The WSOP has begun to introduce more and more affordable low-to-medium buy-in events, in order to beef up the numbers.
Of course, after several days of not leaving the RIO, you will start to feel you've been living in a moon base, thanks to all the artificial light and the sugary oxygen they pump into the atmosphere to (allegedly) keep you awake.
This is simply part and parcel of the WSOP experience. If it gets too much, though, we suggest you head to the Voodoo Rooftop Nightclub and Lounge, an open-air club right at the top of the RIO for some fresh air, cocktails and stunning views of the city at night.
Spring / Fall Wins
The best times to Visit Vegas, then, are from March to May or from September to November when the weather is pleasant, not oppressive. This will give you the chance to stroll along the Strip or check out the gaudy delights of Fremont Street and its slightly hipper environs at your leisure and allow you to really discover the city.
Some of the events on the city's spring schedule include Vegas Uncork'd (May), an annual food and wine festival, as well as Rockabilly music festival, Viva Las Vegas (April). There's also carnival, rodeo and music at the Clark County fair and Rodeo (April), and for petrol heads, the Vegas NASCAR Weekend (March).
Visitors in the fall, meanwhile, can check out the Las Vegas Greek Food Festival in September, while October is all about the bikers, with rock concerts and demo runs and general partying all over town at the Las Vegas Bike Fest.
Break with Convention
Vegas hosts hundreds on conventions each year, and these can cost the price of rooms to rise suddenly. Be sure to do your homework in advance, just to make sure the National Grocers Association hasn't swarmed into town on the week of your visit. Not only might your room be more expensive but the Strip will be crawling with drunk men in suits talking loudly about broccoli.
Go in the Week
Remember, if you're planning a short trip it's much cheaper to visit in the week because room rates can actually double in price at the weekends. Staying from Tuesday to Thursday will be cheaper by far than visiting at the weekend, and, since this is the city that never stops partying, it's not like Vegas is dead during the week. Money saved rooms can be spent sampling the city's awesome restaurants and nightlife, or you could put it all on black and cross your fingers.
New Year's Eve
Of course, Vegas is at its craziest on New Year's Eve, and since it's already the craziest city on God's earth, that statement may be exciting or alarming to you, depending on your disposition.
On New Year's Eve, the entire Strip is shut down to traffic and becomes one giant party of around 300,000 people. At midnight, the casinos unleash a giant choreographed fireworks display. Meanwhile inside the casinos, nightclubs are packed with celebrities and partygoers, and maybe even representatives of the National Grocer's Association, freaking out on their night off. Book early to avoid disappointment.