In America, sports teams are always trying to outdo one another by coming up with the most unique, local, and often, gargantuan, stadium foods imaginable.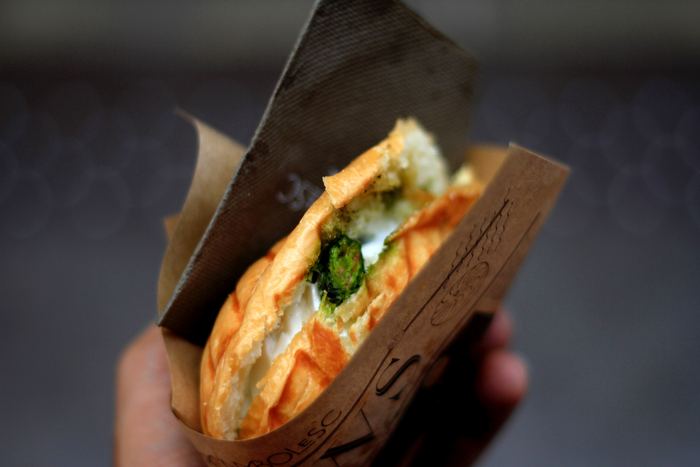 While others may care less about topping their rival's spam grilled cheese sandwich (Houston) with a fried-egg hot dog (Kansas City), America is not alone in having great stadium eats.
Chances are, wherever you are or wherever you're travelling to next has their own special offering, such as these eight weird and wonderful stadium foods from around the world.
Most Valuable Tamale (America)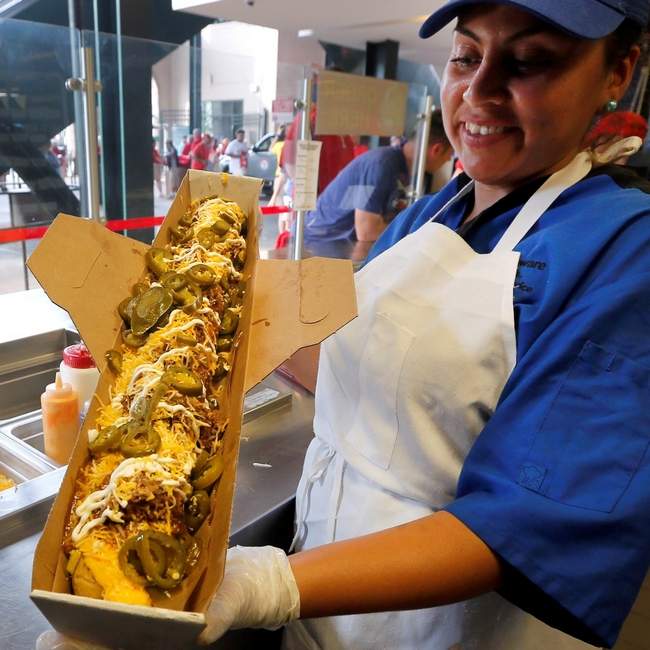 Baseball and eating are so intertwined, fans sing a song in the middle of every game about food.
The hot dog has also become synonymous with America's favorite pastime, but that doesn't mean stadiums around the country haven't put their own local twist on the staple. One notable example is the 'Most Valuable Tamale' served at Texas Rangers games.
The essence of the MVT is its 'Boomstick' hot dog, which measures two feet long and is a separate menu item of its own. This long dog is then fit snugly inside an equally-long tamale, then smothered with nacho cheese, sour cream, and chilli.
Cleary everything is in fact bigger in Texas (including the MVT's $27 price tag).
Braised Pork Belly Poutine (Canada)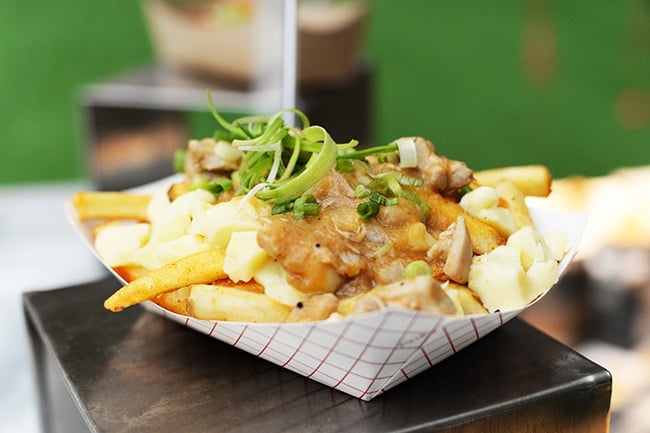 Nothing is more warming on a cold Canadian night than poutine, the popular French fry dish topped with cheese curds and brown gravy.
At Canadian sporting events it comes in countless varieties, such as the braised pork belly version served at Vancouver's BC Place.
Home of the BC Lions and Vancouver Whitecaps, fans there enjoy this particular style topped with bacon bits, smoked pork belly, and red wine gravy.
They'll only enjoy it however if they manage to choose it over the other mouthwatering poutine options served at the stadium's Poutinerie restaurant, which include short rib, butter chicken, and smoked pulled pork varieties.
Kofte (Turkey)
In Turkey, they have their own version of the meatball sub, called kofte emek, or just kofte.
The grilled meatballs (often lamb, beef, pork, or chicken) accompanied by yoghurt sauce and warm bread are a popular eat before, during, and after football matches.
It's also frequently sold with ayran, a cold and salty yoghurt beverage that pairs perfectly with the warmth of the kofte.
Okonomiyaki (Japan)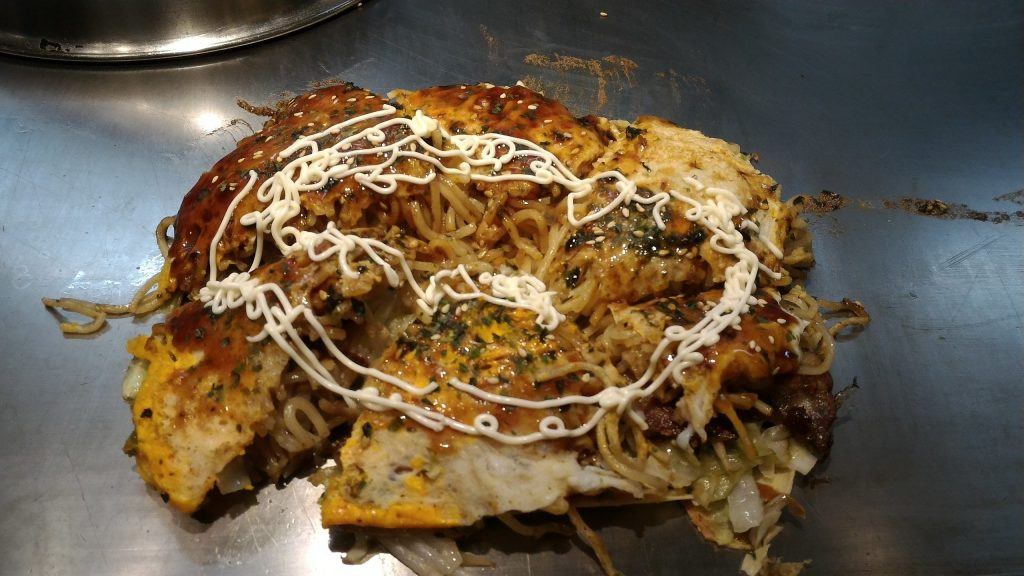 Baseball in Japan is a wonderful medley of different cultures: America's pastime, Europe's match day atmospheres, and The Land of the Rising Sun's own culinary delicacies available at the concession stands.
While each stadium has their own speciality, a particularly famous one is the okonomiyaki served at Mazda Zoom-Zoom Stadium in Hiroshima.
Basically a pancake loaded with different ingredients, the Hiroshima Toyo Carp's version contains ingredients like cabbage, pork, squid, cheese, octopus, and mayo.
Unlike other versions of this jumbo crepe, Hiroshima's ingredients are mixed evenly instead of layered.
Biltong (South Africa)
Whether watching cricket, soccer, or rugby, the gametime snack of choice for many South Africans is biltong. Similar to beef jerky, biltong (Dutch for 'rump strip') is strips of different kinds of meat that have been dried and spiced.
That's where the commonalities end though.
Biltong is typically much thicker than jerky, is never smoked, and uses vinegar in the drying process. Other spices that give the bagged snack its unique flavor usually include coriander, black pepper, and brown sugar.
Vromiko (Greece)
For many, live sport is a time to relax from clean eating and go for something of a greasier variety. Greek football fans have taken this to heart by making one of their most popular matchday eats the vromiko, which translates literally to 'filthy'.
Named not for the conditions it's cooked in but more for the condition you are often in when wanting one (drunk), the vromiko is like a giant hot dog with a bigger bun, bratwurst, french fries, tomato, onions, mayo, and mustard.
Filthy delicious, they mean.
Stinky Tofu (Taiwan)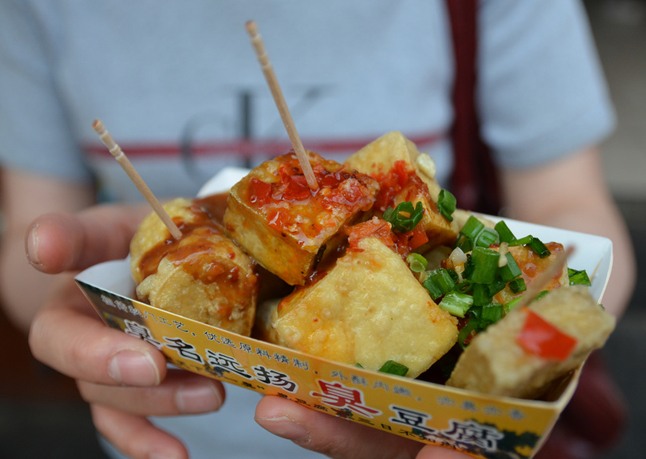 Taiwan is baseball-crazy, and it's fitting that some of their concession choices seem a little crazy too.
At Chinese Professional Baseball League games (in which several Taiwanese teams compete), a common snack is the aptly-named stinky tofu.
After being partly fermented in a brine of vegetables, fermented milk, and meat, the tofu is then deep-fried and topped with pickled cabbage.
It's often served with sweet and sour pickled cabbage and is famously one the few foods that Bizarre Foods host Andrew Zimmern could not get down.
Bovril (UK)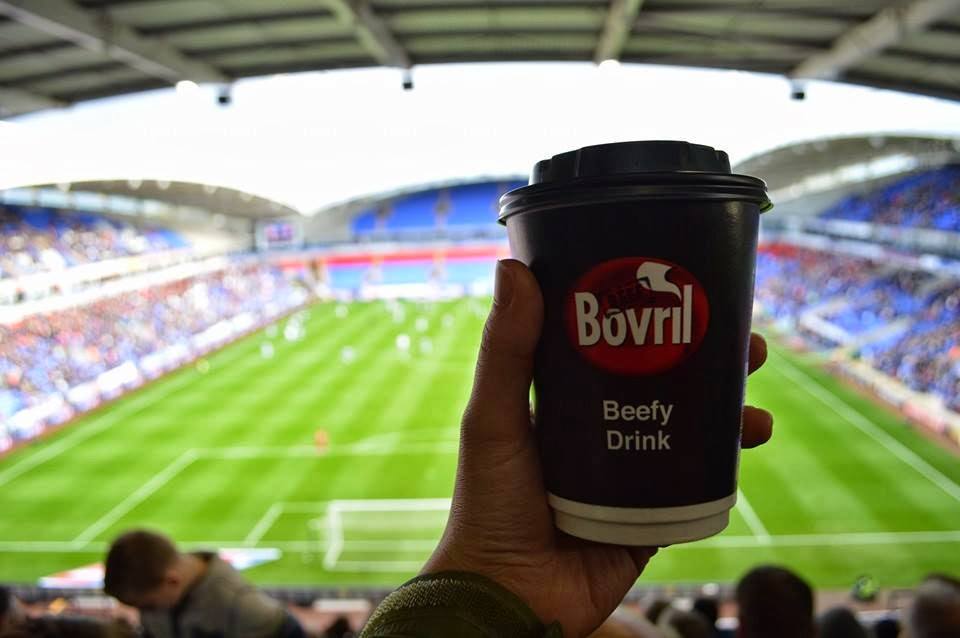 Wonderful? Probably not to many. Weird? If you're not from the UK, absolutely.
Even to most British football fans themselves, it's a mystery as to why this warm beef tea (seriously) has continued to be served at football matches since the 1880s.
Bovril is a paste-like meat extract that can be diluted into a tea, like the kind commonly sold during matchdays around the country. Originally bearing the appetizing name of "Johnston's Fluid Beef", the salty, savoury beverage is (or was at one point) commonly drunk out of thermos' on cold winter matchdays.