5 Reasons Why Betting On eSports Is Exciting

Betting on eSports is fast becoming a very popular form of sports betting across the globe. It is estimated that revenues for eSports betting will hit $23.5 billion by the year 2020, so there's never been a better time to place a wager on eSports.
Here are five reasons why betting on eSports can be considered the best form of sports betting.
1. There Is Money To Be Won!

If you want to know why the future of eSports is looking so bright, then you only need to look at the huge increase in revenues and viewing figures across the industry over recent years. Combine that with the projected figures for the coming few years and it makes for some very exciting reading.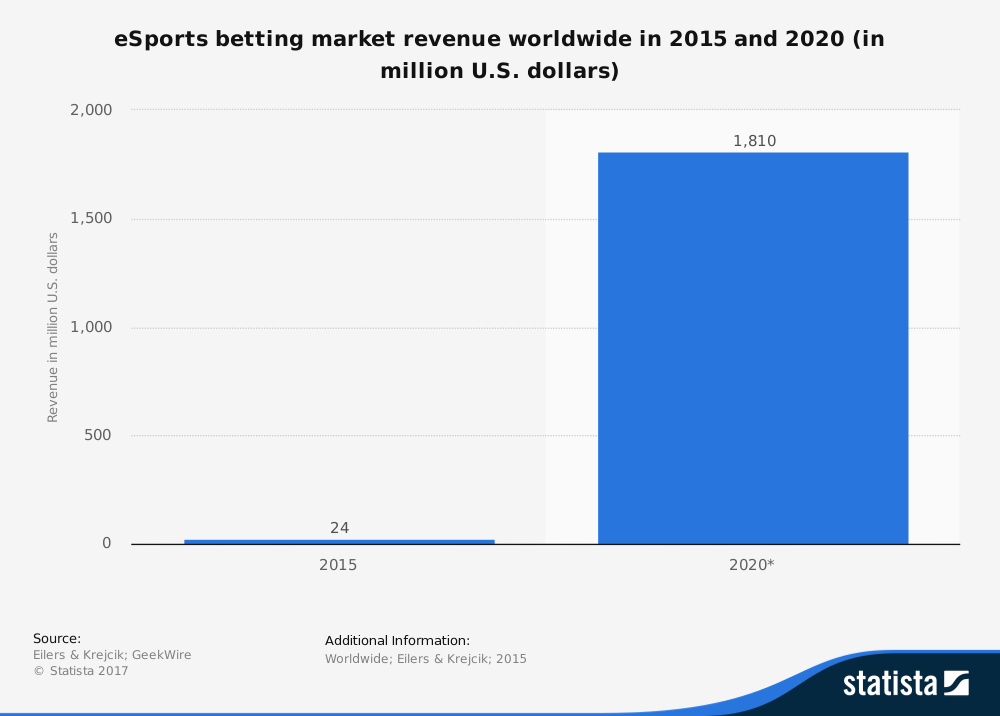 In 2016, the eSports industry generated revenues totalling $463 million. That number is expected to increase by the end of 2020 to at least $1.8 billion.
Look a little bit further into the future and that number will shoot up to $1.8 billion by 2020.
There is set to be a lot of money flying around the eSports industry over the coming years so it makes total sense to be a part of that.
2. The Popularity of eSports is Growing

Once again, the proof of this statement is in the facts. The past 5 years has seen a boom in audience viewing figures and competition participation for eSports.
The League of Legends World Championship is a fantastic window into the evolving world of eSports. The first tournament staged back in 2011, won by Team Fnatic, had a prize pool worth $100,000 with just 8 teams involved. 1.6 million viewers tuned into the live stream with a peak rate of 210,000 unique viewers watching at the same time.
Those figures have sky rocketed ever since. To offer a complete contrast, the 2016 edition of the League of Legends World Championship, won by SK Telecom T1, involved 16 teams split across four groups before entering a knockout phase. The total prize pool was worth $6.7 million. More than 43 million viewers watched the tournament with a peak number of 14.7 million viewers watching at any one point.
The 2017 tournament is set to smash those figures. It's only logical that a sport that is growing so quickly is looking like the most appealing one to bet on.
3. Ordinary People Become Extraordinary Heroes
A lot of sports that punters placed wagers on can often feel a bit detached. Where is the emotional connection to a bunch of multi-million dollar earning footballers who are trying to win a game of football?
Where is the feeling of empathy with those cricketers who have never worked a tough job in their life? Why should you care about the boxers who have forgotten their roots and are now all about the money?
The beauty of eSports is that, for a period of time, average people in the street can become icons.
These eSports players represent all of us. They are the boy who worked 9 'til 5 in the grocery store and then spent his evenings sharpening up his Dota 2 skills. They are the girl who grafted through her exams but then chose to stay in and practice Starcraft II instead of hitting the mall. They are every one of us who had hopes of becoming somebody but could never quite make it happen.
eSports players are life's underdogs being given their chance in the sun. That is what makes betting on eSports a lot more fun than betting on other sports. We see a bit of ourselves in every player.
4. It's Totally Unpredictable

One of the most obvious reasons to bet on eSports over other sports is the level of unpredictability.
Due to eSports being a relatively new section to the betting sites, the bookies are not quite as tuned into the odds involved as they are with other sports.
Everybody knows that in American Football it is a sensible decision to offer the New England Patriots at low odds to win the Super Bowl. In soccer, everybody knows that it makes sense to back Barcelona or Real Madrid to win the Champions League.
Bookmakers are not quite as confident with eSports meaning you can find great value if you keep your ear to the ground.
5. There Is So Much Choice
The growth of eSports means that with every passing day more and more bookies are committing extra time and resources to offering as many markets as possible on the different events being played. It was not that long ago that bookies either didn't offer any odds on eSports events or, at best, only offered odds for the League of Legends World Championship.
Nowadays, there is so much to cover. Dota 2 and League of Legends still draw the most attention from bookmakers online but other eSports such as Counter-Strike: Global Offensive, Starcraft II, Call of Duty, Hearthstone, Heroes of the Storm, Overwatch, and FIFA 17 are now getting more exposure.
As more players get involved in eSports and betting revenues continue to increase then this wealth of choice will only expand and that is great news for eSports fans.