1967's Casino Royale Comedy Is An Under-Appreciated Gem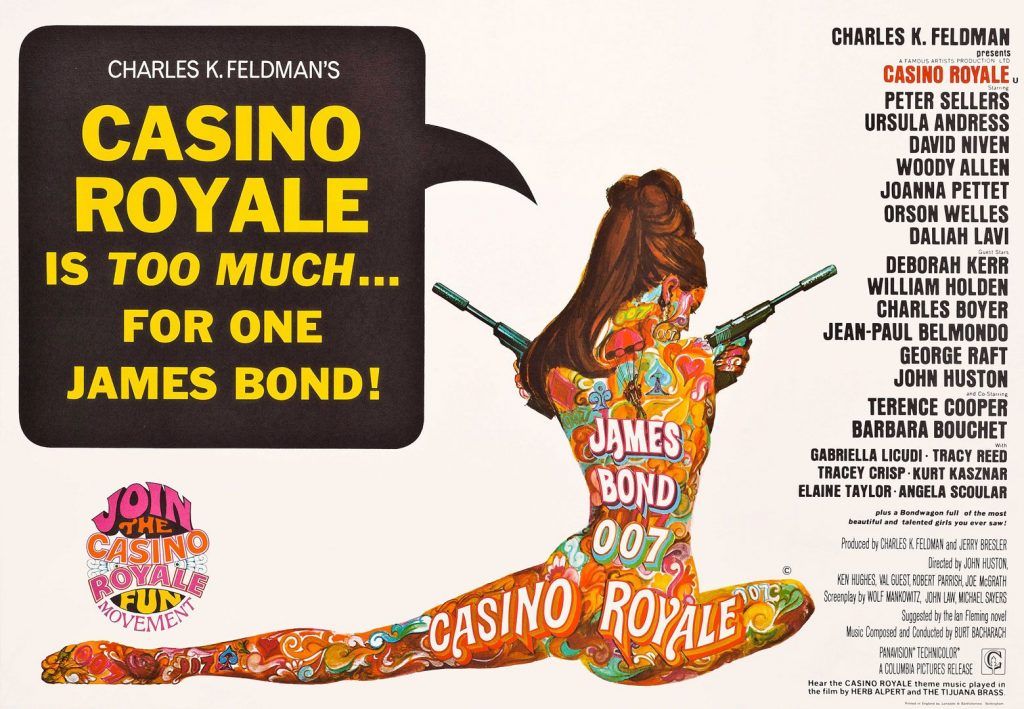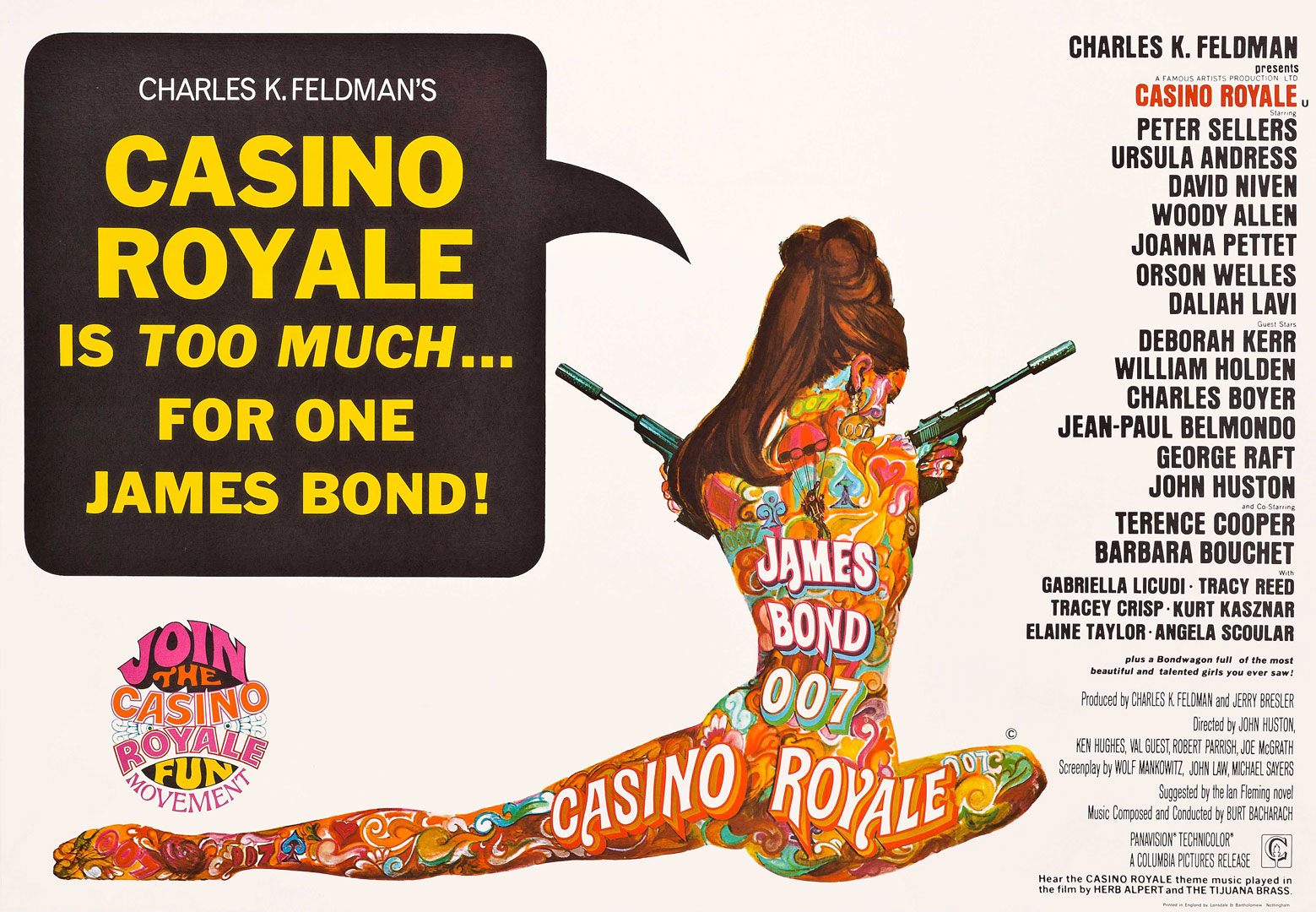 The James Bond franchise is one of the most famous in movie history. The 2006 release of Casino Royale introduced Daniel Craig as 007 in ground-breaking style but it is not widely known that the book which the movie was based on had already been transferred to film back in 1967.
Why Did It Happen?
Producer, Charles K Feldman, had purchased the rights to the movie of the Ian Fleming novel of the same name back in 1960. His attempts to have it made as an Eon Productions Bond film failed when talks lead to a dead end.
So the alternative option was for Feldman and Columbia Pictures to make a spoof movie of the franchise.
Bond… But Not As You Know It!
Surprisingly, it turns out that 1967's Casino Royale is quite the underrated cinematic treat.
Produced by Columbia Pictures, the movie went through a number of directors including Ken Hughes, John Huston, Joseph McGrath, Robert Parrish and Val Guest.
The film adopted a comedy tone and was released just two months before the fifth "official" Bond movie, "You Only Live Twice".
Starring David Niven as Bond, Casino Royale's plot consisted of the charismatic English spy being forced out of retirement to investigate the deaths of a number of international spies. The movie also co-starred comedian Peter Sellers, Orson Welles, Woody Allen, and model Ursula Andress.
An Unforgettable Soundtrack
One of the key aspects of a successful Bond movie is the music. The music is practically synonymous with the movies.
If you think back to all the classic Bond movies they will instantly trigger echoes of such songs as "Live and Let Die" by Paul McCartney, "Goldfinger" by Shirley Bassey, and "Nobody Does It Better" by Carly Simon.
"The Look of Love" sung by Dusty Springfield and written by Burt Bacharach can be added to that elite list due to its inclusion in Casino Royale.
On-Set Drama and Controversy
A number of issues on-set have been highlighted as a possible reason why the star-studded list of actors appearing in the film never quite gelled as well as anticipated.
It was highly-publicised that Sellers and Welles in particular did not see eye-to-eye.
This led to tensions during scenes involving the two actors. It is alleged that the rift between the two came about when Princess Margaret, sister of Queen Elizabeth II, arrived on set one day. She and Sellers had met previously but she instead threw all her attention on Welles, much to the jealousy of Sellers.
That was not Sellers' only run-in with fellow cast members. Director McGrath was punched in the face by Sellers after he complained about Sellers' behaviour on set.
Sellers was eventually sacked by director Guest before he was able to film all his scenes. This saw a number of scenes scheduled to include Sellers being cut.
Another instance of controversy involved Allen.
Allen's scenes were being filmed in London. However, producers repeatedly delayed the filming of his final day. After this occurred numerous times, Allen eventually declared enough was enough and he caught a flight to Heathrow Airport and flew straight back to New York whilst still wearing his costume for the scenes he was supposed to film.
A Critical Catastrophe But A Box Office Bombshell
Casino Royale hit the cinemas after the successful releases of "official" Bond movies Dr No, From Russia With Love, Goldfinger, and Thunderball. In the grand scheme of things, it was considered late to the Bond party.
It also received generally negative reviews from critics who claimed it was bizarre and mind-boggling. However, the movie delivered the goods at the box office. It earned $41.7 million worldwide.
Is Casino Royale Really An Under-Valued Gem?
Casino Royale has all the hallmarks of a classic Bond movie.
It has Bond himself. It has a tale of espionage and high risk. It has the stunningly beautiful super models. It has an A-list ensemble cast. It has the music. So why do many not rate it as highly as some of the Bond greats?
The movie is undoubtedly a victim of its leftfield tone. The decision to turn Bond into a form of comedy was never going to hit all the right notes with fans of the franchise.
It can be argued that the movie has suffered from the recent success of the 2006 release of Casino Royale. It was a movie that re-invigorated a dying franchise and introduced Daniel Craig to the Bond fan base. Sadly, its positive critical reception has probably only gone to work against the original's reputation because they were two movies at polar opposites of the movie spectrum.
Clearly, MGM movie studio have taken a shine to the movie. In 1999, they paid Sony a staggering $10 million for the rights of the movie.
Calling it an under-valued gem is probably overrating the film. Labelling it as under-appreciated and widely misinterpreted is probably a more accurate argument.