10 Bets on the Big Screen
Nothing makes a good movie like a tense story line, and when stakes are high, tensions are higher. Best way to bring that out? Make a bet. Nobody wants to lose their wager and watching the characters battle for the prize makes for good watching. Whether it's love, money, or life, these movies show characters pushed to the limits by their bets.
1. The Deer Hunter

The Bet:
Set during the Vietnam War, three American soldiers, Mike, Steven, and Nick, are held captive and forced by their captors to a game of Russian Roulette. In a tense few minutes they each must bet their own life that when they pull the trigger the bullet won't be in the chamber, ready to blow their brains out.
The Outcome:
They win. The American soldiers that is. In the first 'game' the third one to go is Steven who aims the gun upwards rather than at himself, sending the single bullet into the air. He is put in an underwater cage with corpses and rats as punishment. Mike and Nick somehow orchestrate a second 'game' with the guards, heightening the stakes by playing with three bullets. Luck is on their side and they are able to kill the guards, managing to escape and rescue Steven.
2. She's All That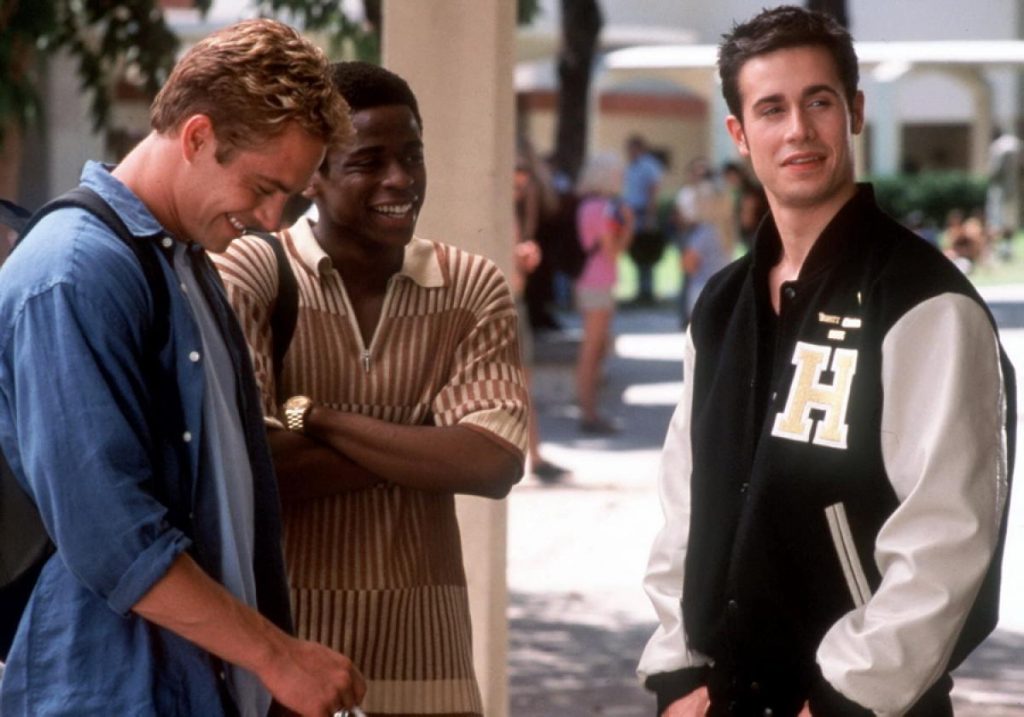 The Bet:
In this 90s high-school classic we see popular kid, Zack, dumped by his teen royalty girlfriend, Taylor, for a reality TV star. With his street cred on the line he makes a bet with his friends that he can turn any girl into Prom Queen. They assign him Laney: the nerdy, undateable, art-obsessed loner.
The Outcome:
He loses. Laney is nominated for Prom Queen but Taylor is crowned, as per the status quo. In his bid to win the bet though, Zack falls for Laney big time but when she finds out about the bet she wants nothing more to do with him. In the end they make up and get their happy ever after but not before Zack holds his end of the bet. As the loser he has to get up on stage at their graduation totally naked. And he does!
3. Let It Ride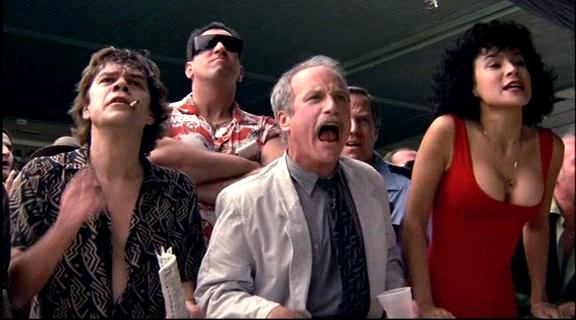 The Bet:
What a feel-good gambling film! Cab-driver Jay overhears a couple of his passengers talking about a horse they should bet on in an upcoming race. Despite promising his wife he'll quit betting he gets himself down the bookies and bets $50 on that horse.
The Outcome:
He wins. And earns himself $710. He takes the winnings and puts them straight back on another bet, and he just keeps winning so that by the final race he's managed to tot up $68,000 which he puts down on the winning horse. He certainly has a very good day indeed.
4. Indecent Proposal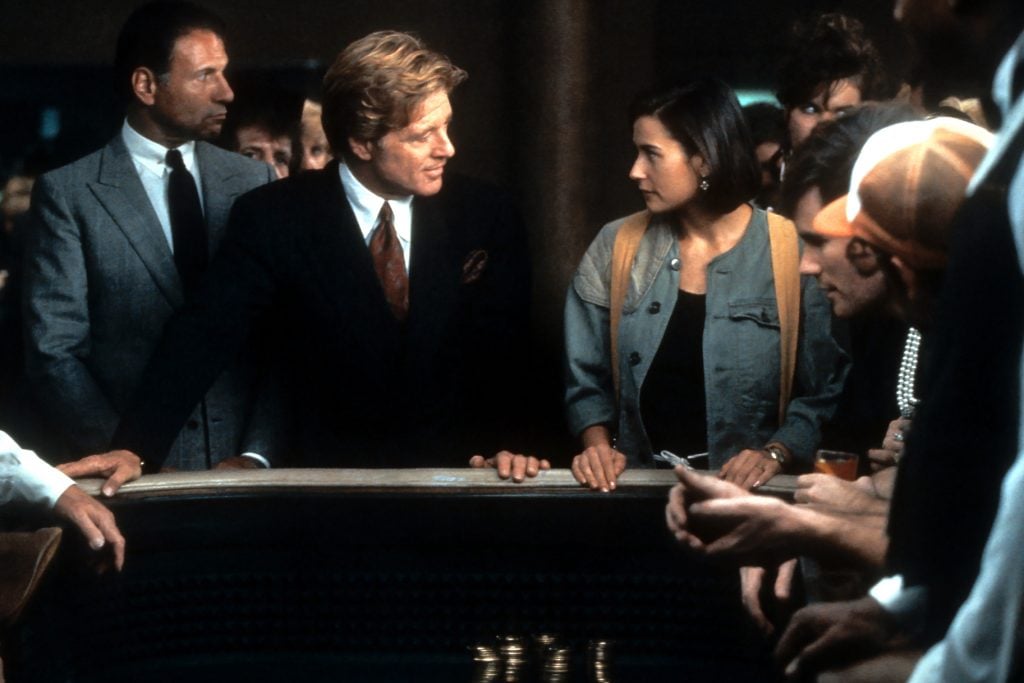 The Bet:
After billionaire Gage meets hard-up married couple David and Diana, down on their luck in Las Vegas, he proposes $1 million for a night with Diana. Eventually they agree to it. Diana joins Gage on his private yacht and clearly resents him. Sensing this, Gage offers her the chance to get out and call the whole thing off with the flip of a coin. His lucky coin.
The Outcome:
He wins. She spends the night with him and the following day, she and her husband get their $1 million. David can't let go of the night his wife spent with this billionaire and his paranoia pushes her away into the arms of Gage. As their relationship develops, Diana files for a divorce from David to which he agrees, offering her the money as well. Knowing that she will never have with Gage what she had with David she calls it off to return to her first love. Gage understands and, as a parting gift, he offers her his lucky coin. And of course, his lucky coin owes its luck to the fact it's double-sided!
5. Cabin Fever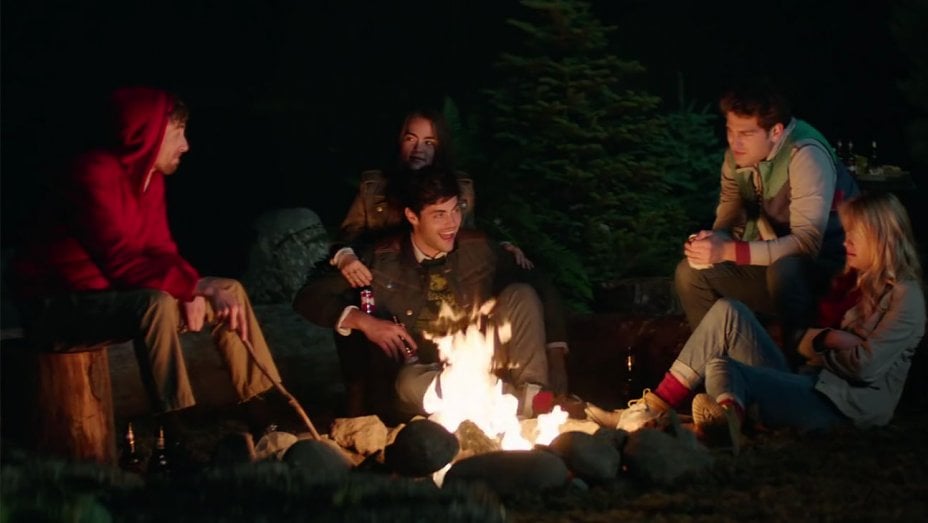 The Bet:
A group of college students take a trip into the woods on a seemingly fun-filled break. The fact that a flesh-eating disease infects them one by one puts a dampener on the mood, and in a subplot there is a bet between them all, bar one, that they can survive the whole trip drinking only beer.
The Outcome:
One guy wins. Fair play to him, not a drop of water touches his lips, and just as well really since (SPOILER!) the water supply is polluted. So, by drinking only beer he is the only one that survives…until the cops show up and shoot him anyway.
6. How to Lose a Guy in Ten Days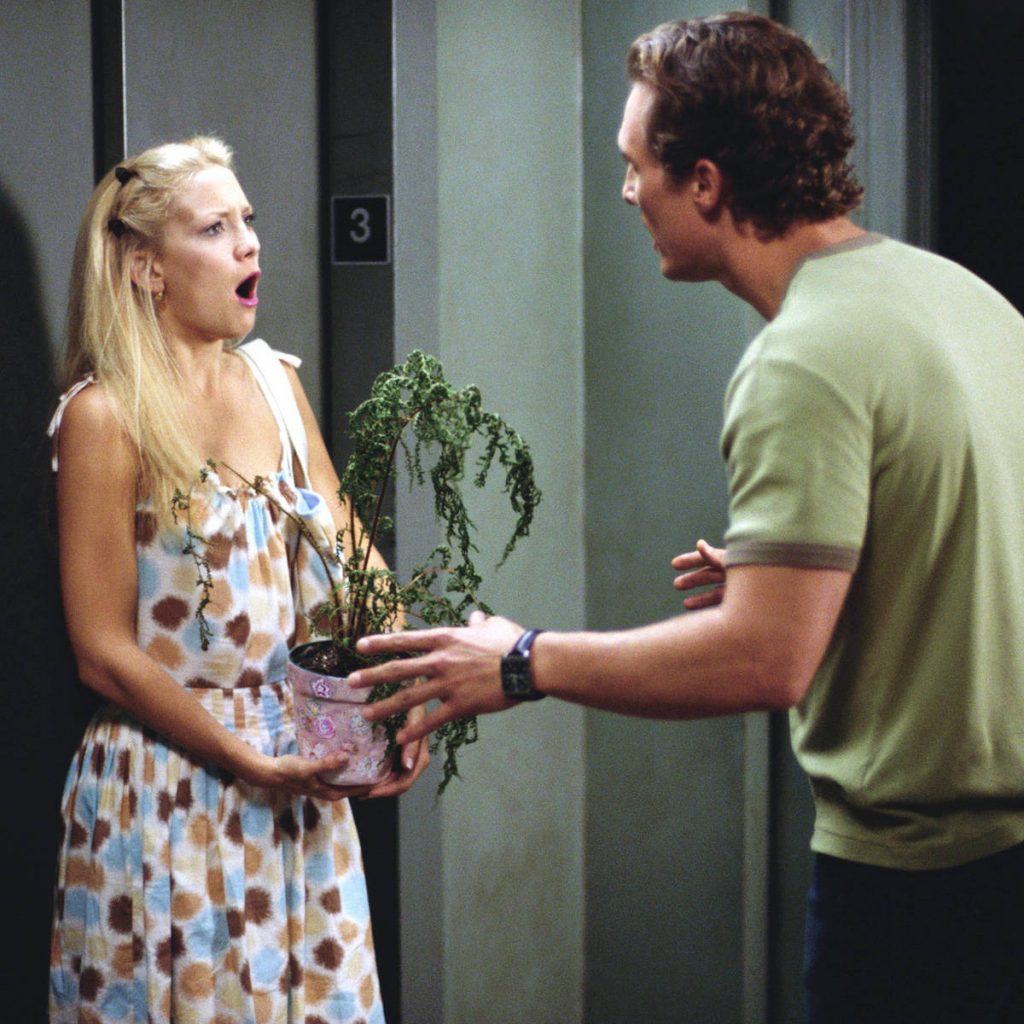 The Bet:
Ben is a big dog in the advertising world and wants to bag a deal with a new diamond company's campaign. The company's CEO is unconvinced that Ben knows everything about love and romance so Ben bets that he can make any woman fall in love with him. If he succeeds he will be given the job.
The Outcome:
He wins. When the CEO meets Ben's 'date' at a party he sees that she has fallen for him. When she finds out she humiliates him in front of everyone at the party and they have a big fight on stage. They've actually developed feelings for each other so by the end of the film Ben has even got himself a girlfriend out of the bet, as well as the advertising job.
7. Diggstown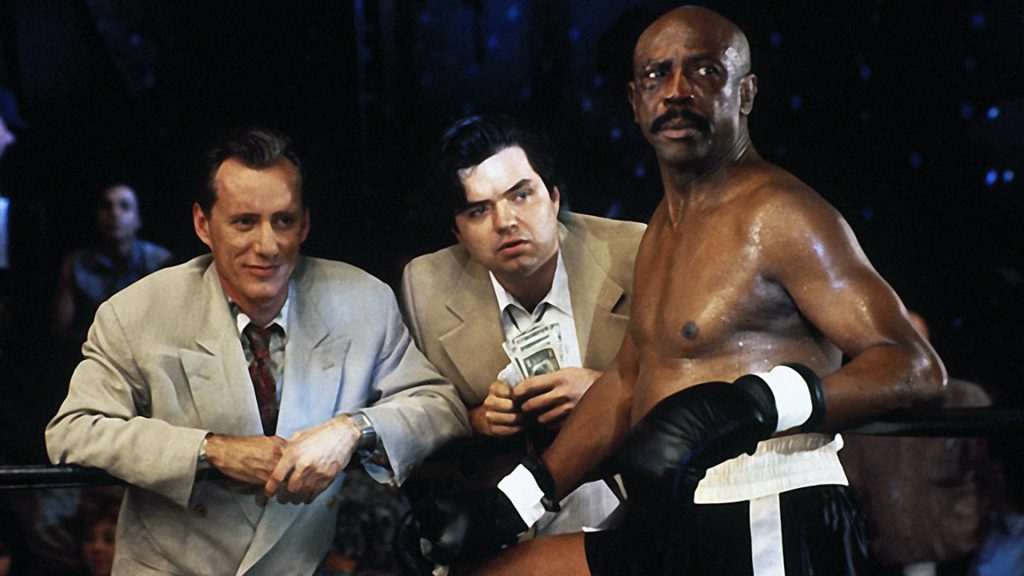 The Bet:
When con man, Caine, is fresh outta jail he's ready to take on his next money maker and ends up in the boxing-mad town of Diggstown. Cue Gillon, the business tycoon who practically owns the place and who used to manage the most successful boxer, Diggs, who won five fights in a day. Caine and his friend, Fitz, say they know a boxer who could do better. Gillon bets that no boxer could knock out ten of Diggstown's finest in one day.
The Outcome:
He loses. When he brings on the toughest fighter at the very end on the grounds that another, earlier fighter hadn't actually stepped into the ring it seems that he'll win the bet. This fighter, Torres, is unbeatable. But Caine was recently in prison with him and predicted Gillon's sneaky trick, so he struck a deal with Torres to let himself be flattened in the ring. Gillon owes Caine $100,000 and is pretty sore about losing.
8. Cruel Intentions

The Bet:
You don't want to get on the wrong side of Manhattan's Upper East Side step-sibling duo Kathryn and Sebastian. Appearing to have no levels of human compassion, ruled instead by their own narcissism and sociopathic tendencies, their ruthlessness remains hidden behind their beautiful veneer of perfection. A plot full of intrigue sees Katherine bet her body to Sebastian if he can seduce their headmaster's virgin daughter, Annette.
The Outcome:
He wins. He succeeds in seducing Annette, but of course, falls in love with her. When Kathryn offers herself up to him he refuses and so she coordinates an elaborate plot that breaks the new lovers up and sees Sebastian die in an horrific car crash.
9. Silver Linings Playbook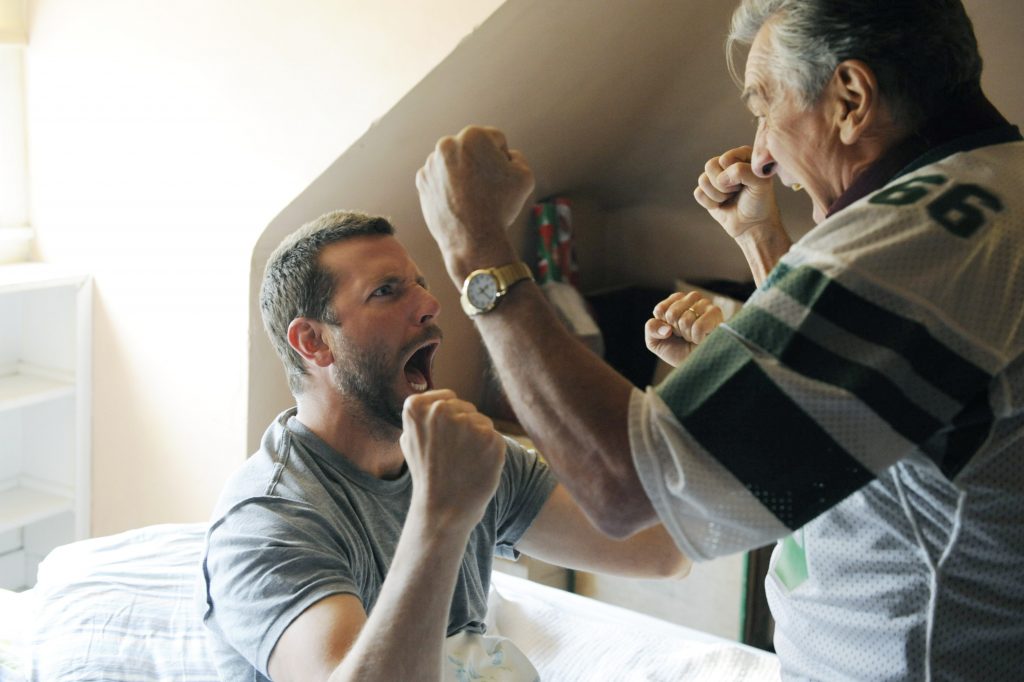 The Bet:
Robert de Niro plays Pat Sr, the father of this film's main character, Pat. He loves gambling and is obsessed with football and his favourite team, the Eagles. When he loses a lot of money after betting on a game, in a bid to get back twice what he lost to his gambling buddies he wagers that the Eagles will win their game. He also bets that Pat Jr and his dance partner, Tiffany, will score at least a five in their dance competition of the same day.
The Outcome:
He wins. The Philadelphia Eagles destroy the Dallas Cowboys, meanwhile over at the dance competition that's running simultaneously, Pat and Tiffany are awarded five points exactly. Pat Sr is able to fulfil his dream of opening a restaurant with the winnings. Happy days.
10. Kaiji: The Ultimate Gambler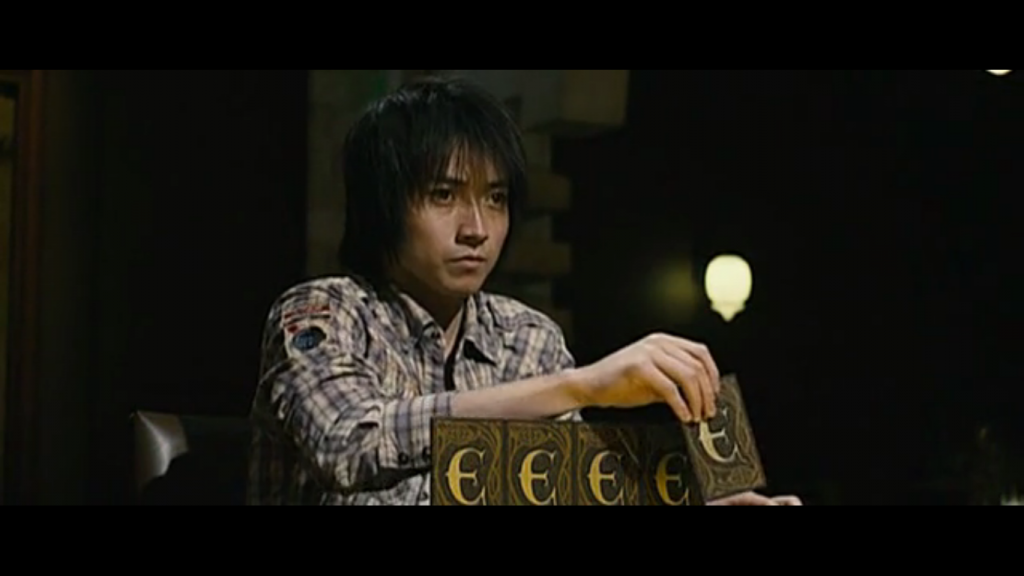 The Bet:
As the title may suggest, this is Japan's ultimate gambling movie. Our hero, Kaiji, finds himself bearing the full whack of a hefty debt he co-signed when Endo, the debt collector, appears. He offers him two choices: spend the next ten years paying him back or board the gambling ship, Espoir, and win back what he owes and some extra. Kaiji accepts the challenge, hops aboard, and bets his life.
The Outcome:
He wins. And has a night he'll never forget. Endo doesn't believe for a second that Kaiji'll make it back, clearing his name, but he does. A few times over, actually, as there's a sequel where he loses an ear and four fingers along the way.